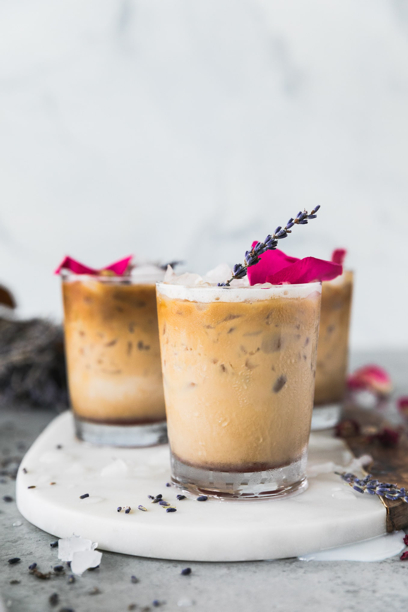 Rose Lavender Honey Iced Lattes
These Rose Lavender Honey Iced Lattes are sweetened with a honey simple syrup made with dried lavender and rosebuds! The simple syrup is free of refined sugar and gives the most beautiful floral sweetness to these lattes. They're an incredibly delicious treat to brighten up your mornings or summer afternoons! I mean, look at those swirls! We could stare at them all day. These would be absolutely perfect to make if you're hosting a lady's brunch. Especially if you garnish them with a fresh rose petal, and/or a dried piece of lavender, people will go crazy.
 Prep Time: 10 minutes
Servings: 1 latte, is easily multiplied (makes lots of extra syrup)
Author: Molly | Spices in My DNA
Ingredients
For the rose lavender honey simple syrup
3/4 cup water
3/4 cup honey
1/4 cup dried culinary lavender*
1/2 cup dried rosebuds*
For the latte
1 tablespoon rose lavender honey simple syrup
1 shot of espresso
1/2 cup whole milk*
crushed ice
fresh rose petals or lavender for garnish, optional
Instructions
Rosé lavender simple syrup
In a medium saucepan, bring the water, honey, lavender, and rosebuds to a boil. Once boiling, stir for 10 seconds, remove from heat, and stir until honey is dissolved. Let cool completely. Once cooled, strain mixture through a fine mesh strainer into a container and discard lavender and rosebuds. Syrup will keep in a sealed container in the fridge for up to 2 weeks.
Latte
Add the simple syrup to a glass. Fill glass with crushed ice. Pour the espresso shot over the ice, and top with milk. Stir really well to incorporate the syrup into the drink. Top with a fresh rose petal and/or a sprig of lavender if desired. Enjoy!
Recipe Notes
This is the dried culinary lavender I use. It keeps for a long time and is great to use in other desserts, like doughnuts!
These are the dried rosebuds I use. Also a great addition to desserts and cocktails. Like these healthy truffles!
I like to use whole milk for these lattes for taste and creaminess, but if you don't tolerate dairy, a vanilla almond milk would work!
This recipe makes 1 small latte, but if you want a large latte, simply double it! The simple syrup makes enough for 10+ lattes.
The extra simple syrup will keep in the fridge for up to 2 weeks, and you can use the extra for adding to cocktails, drizzling on pancakes, warm muffins out of the oven (YES), ice cream, or even oatmeal!